Erasmus+ Grant Applications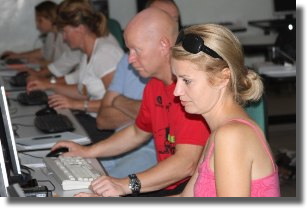 This summer's courses were another huge success, thanks to all the participants and the team at Smart Solutions. We've had a lot of encouraging feedback and we are happy to be making a difference in the daily classroom practice of many teachers from around Europe.
That is why we are pleased to introduce another course which will help educators shift from traditional teaching and traditional pedagogical approaches to a 21st century learning environment. The fully complement of courses offered during summer which include coffee breaks, refreshments, mid-day lunches, course resources and cultural visits conducted by a professional guide, is a as follows: 
1. ICT for Collaborative, Project-Based Teaching and Learning 
2. Computational Thinking (Teaching  Through Coding and Robotics)
Both courses are of 35 contact hours spread over 7 days. (starting on Sunday [evening informal meeting] and finishing on Saturday). We are planning to organise a number of sessions of these courses next summer (July - September 2018 and 2019). More details may be obtained by contacting us directly for personalised help. Institutions interested in having their staff participate in this course may apply for Erasmus+ In Service Training grants with their National Agency. Grants cover all the expenses in connection with their participation in this course. The deadline for sessions starting in July 2018 is the 2nd February 2018 at 12:00pm.
Please read on to find out how to apply. We will be happy to hear from you should you require any assistance.
Our PIC number is: 947821727

How does it work?
If you are interested in our course, follow the following simple steps, remember that we are here to help you.



Confirmation
2. As soon as you submit the online form, we will send you an official letter of confirmation (within 24 hours).

ECAS
3. Create an ECAS and PIC accounts by clicking here.

Download eForm
4. Download the eForm (Right click on the download link and save it to your Computer)

Complete the eForm
5. Complete the eForm - we are able to help you with this, let us know if you need our assistance!

Wait for the Grant!
6. The most difficult part is waiting to see whether you are awarded the grant...